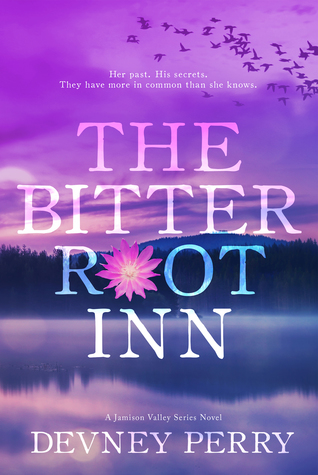 TITLE - The Bitteroot Inn
AUTHOR - Devney Perry
BLURB:
Her past. His secrets. They have more in common than she knows.
Maisy is happily content with the life she's built for herself and her young son in small-town Prescott, Montana. Her child is thriving, her business is growing, and her family is as close as they've ever been. But when a handsome stranger walks into the lobby of her motel, her simple life is swept up in a wave of affection for his gentle heart. None of those feelings can be trusted, though. She made that mistake before with another man. The man she murdered.
Hunter was a different man when he first saw Maisy Holt from afar. He took one look at her and ran in the opposite direction. But years later, he's back in Montana and unable to keep his distance. He shouldn't have tried to find her but he never was good at rejecting temptation. The promise of the good she could bring into his life is too hard to resist. Maybe if he can disguise the lies and hide the deceit, he can keep her from learning the truth. Because his only chance at a future with her is by burying his past.
"Never say never, 5 stars"
If you have ever read any of the Jamison Valley Series you know who Maisy is, if not don't fret! This is her story, and a story it is. Perry has given us hints into her story and it's a tragic mess. She starts Bitterroot Inn in current time and Maisy is just going through the motions and being the best mother she can be. She has no plans of finding love again because she was burned so bad, and honestly, I wouldn't blame her. That is until Hunter comes along. But Maisy has got enough baggage to over fill the biggest U-Haul, will Hunter be able to accept her the way she is?
Hunter has secrets, secrets he doesn't want to let out. Once he meets Maisy he knows he has no choice but to let her in. They have more in common than one would initially think, its both a positive and a negative. But Hunters past is bound to come out, will Maisy find the time to listen? When danger comes their way will they make it out on the other side?
I really did love this Bitterroot Inn, my only complaint is the dudes name is Hunter, which is my brothers name. sometimes it's a little weird reading about a gun who shares the same name as your brother when they are getting down and dirty! *Laughs* Other than that though I loved the three main characters and all the secondary. From the meddling mother to the over protective brothers. I was so happy to see that finally Maisy closed the door to her past and was willing to work towards a better more positive future in a healthy way.

Star Ratings:
Overall-5/5