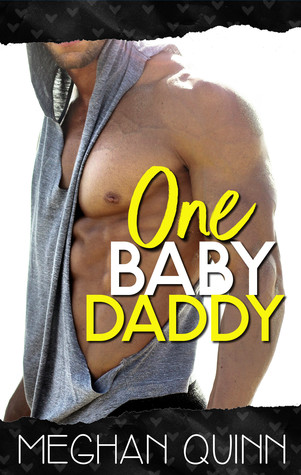 TITLE - One Baby Daddy
AUTHOR - Meghan Quinn
Blurb:
"What are you doing now that your team is out of the running for the Stanley Cup?"
Forget.
I need to forget. I need an escape.
Only one person isn't falling for my reputation as the NHL's Golden Boy; she captured my attention the minute she called me out for snooping through my best friend's house. She didn't want to hear my reason--she only wanted to playfully give me a hard time.
Adalyn is bold, sassy--and the perfect escape.
She's everywhere. In town and in my dreams, and suddenly I need to spend every waking moment with her.
And I do, making this summer the best off-season I've ever had.
But in the midst of getting lost in Adalyn, what I don't expect is to get her pregnant.
And what I definitely don't expect is having to fight for her affection.
Johnaka's Review:
"Life just got a whole lot more complicated, 5 stars"
All Hayden wanted to do was go back to his hometown and regroup after the way his rookie hockey season ended, instead he met Adalyn. He knew as soon as he saw her she was a game changer. But is he ready for the game to change? Hayden is a gentleman to a fault and it was remarkably refreshing. He is one of those guys who truly thinks everything through and knows what can pop up around the corner. But with change on the horizon will he get everything he wants or will sacrifices be made?
Adalyn knows love is real, she's just never experienced it. She thought she had once, but it was a false alarm. Then she meets Hayden over a stack of bills that belong to neither of them. He's sweet, charming, and holding out on her. Which totally works in his favor. Soon she gets to know the man and can't help but fall for him. Adalyn knows Hayden isn't staying in town forever but she didn't expect him to leave so soon. Will she let him back in or will she hold circumstances against him?
I won't lie, I was kind of hesitant to like the idea of Hayden as a baby daddy. I don't know why but when I first learned of him in 3 Blind Dates I just didn't feel like that was his style. But once I saw where Quinn was taking the story it clicked. I slightly questioned Quinn there for a hot minute, but I won't make that mistake again because I really did love the story.
You see several old characters from previous Quinn books, and if you've never read her before fear not! You do not need to read any book before this one in order for it to make sense and enjoy it. You'll read about two people who truly belong together struggle for a bit but then find their way and how they go about it is refreshing. although there were a couple times in the second half I wanted to hit Adalyn over the head for dragging her feet…lol just go one-click.
Star Ratings:
Plot-5/5
Characters-5/5
Heat-5/5
Writing style-5/5
Overall-5/5