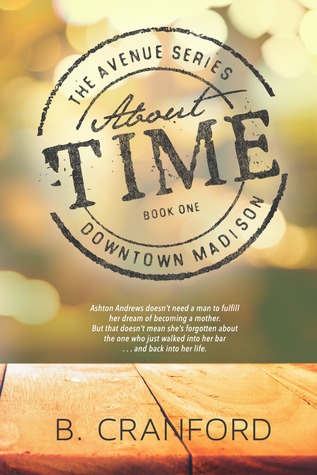 TITLE - About Time
AUTHOR - B. Cranford


Blurb:
Ten years
. That's how long Ashton Andrews spent wondering if she would ever have the family she craved, with a man who was apparently not
the
one.
Six weeks
. Time spent patiently waiting, silently hoping and endlessly wondering if the decision she'd made to go it alone was the
right
one.
Nine months
. Morning sickness, cravings and that constant need to pee are what Ashton has to look forward to, knowing that numbered are her days of being
just
one.
Fifteen years, eight days
. An eternity ago were those unforgettable moments spent crushing on her brother's best friend, yet her mind constantly turns to him—the one who got away.
The one who might yet be
her
one.
It's probably about time she found out . . .
About Time
is a contemporary romance featuring 30-something characters who know that life is short and know what they want.
Johnaka's Review:
"Second chances, 5 stars"
I am going to cut through all the normal review stuff I do and not give you a tease about each character and how awesome they are. Instead I'm going to rave about how much I enjoyed About Time. About Time is a story that's kind of like a lost love connection type of story. Dunk and Ash met when they were in college but they were literally passing ships even though Dunk was Ash's brothers best friend.
They moved on with their lives and stuff happened who reshaped them into who they are now. And now? They are both hopping that brief connection they shared was real and that maybe just maybe they can build on it now. It's a beautiful story that is well written. I definitely recommend you one-click, I don't think you'll regret it.
Plot-5/5
Characters-5/5
Heat-5/5
Writing style-5/5
Overall-5/5